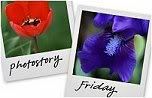 Hosted by Cecily and Linds
I have been missing from the blog action for quite some time now. Before this little blog of mine changes in a big way, I thought I would jump back into PSF's with a little tribute to the one who started all of my blogging.
Therefore, in honor of my first favorite person in the world, before I officially introduce my other favorite person in the world, I thought I would tell a photo story with photos.
I have just a couple of comments of course--to help the story along.
Sophie about 10 days before her new job begins.

This was Sophie last night making sure we all still new who's the boss.
While waiting to meet Sam when he was still in the hospital, Sophie practiced with one of his new teddy bears. She LOVES her new title as big sister.
Instant best friends for life!
I have been absolutely blessed and amazed at the amount of love pouring out of this little girl. I admit I was nervous about her reaction to our new peanut, but Sophie has proven -once again- that she truly is the best little girl in the world--by being the best big sister in the world! So even though everything is turning to baby blue--Sophie is our shining star who will forever remind us that PINK is her signature color!