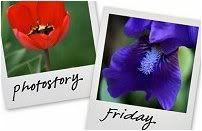 Hosted by Cecily and MamaGeek
Happiness is .....
Red-Eyed Tree Frogs! Especially when you can eat them and they have names like Cha-Cha!
We had taken Sophie to the Rainforest Cafe down in the big city (Chicago) a few weeks ago, and she was so excited to see the real-life version of these frogs wandering the restaurant while we lunched. His name is Cha-Cha and Sophie talked about him for days! THEN we saw this yummy Jello-O creation in the June issue of Your Big Backyard so of course she wouldn't stop bugging me until we made them.
**AHHHHH** So this is what normal feels like--it's been so long for me, I was starting to forget!
Sophie enjoyed it too! It was one happy day.