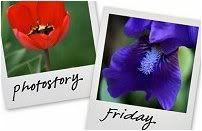 Hosted by Cecily and MamaGeek
I'm not the happiest of people immediately after opening my eyes in the morning. BUT,
When Sophie wakes up--you'd think she was rushing to see if Santa came --every morning. I usually give a cheerful 'good morning' or a quick little 'hey sleepy head!' That's about all I can muster up until I'm fully awake.

However,
I've noticed that if I give her an enthusiastic "HEDDOE Butter Bee--How are ya?" As if I haven't seen her in two years--she always -
always
- breaks into gigantic smiles and giggles and comes running to give spontaneous hugs and kisses. ALWAYS--just like it's Christmas morning.
It doesn't matter that the house isn't clean, or her playroom doesn't exist yet, or her stubborn cold just won't go away, or that it's cloudy and cold AGAIN outside, or she won't get to go to the zoo yet, or that she didn't get to play her favorite game last night, or that I said NO to the millionth cookie that she wanted instead of dinner last night.
None of that matters because she lives in the
moment
. She is concerned with being happy right NOW.
Not tomorrow because it's not here yet and not yesterday because she knows it's gone and doesn't give it a second thought.
My new goal: make that' Christmas Morning' face appear on my little mouse as often as possible and start learning everything I can from my offspring who is most noticeably smarter than me.
So in the words of the great Van Halen--Right Now is Everything!
Life is good!