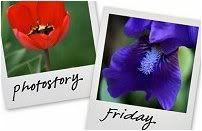 Hosted by Cecily and MamaGeek
Since this is PhotoStory Friday I need a photo:
This photo was taken about a month ago when Sophie was painting her rock collection. Today's story has little to do with this photo except that it is one of the last three pictures I ever took with my handy-little-pocket-sized-go-with-me-everywhere Sony Cybershot.
I'm feeling a little lost.
Sophie through a fit and knocked the camera out of my hands
My camera broke and a replacement has not yet been purchased.
So far, I've been OK. It's been about a week and a half, and besides EASTER (argh) I've not missed being able to snap pictures. The weather has been icky and we've been stuck in the house.
This morning however, I got my first pang of
Man I need a camera--NOW
! You see because Sophie and I were coloring the other day and she loves to give me her finished pictures with a little flourish like TaDa! I immediately say, "This is gorgeous--I'm putting on the fridge for the world to see." and I do.
Well, this time I actually finished a picture so I promptly gave it to
her
. TaDa! She immediately said, "It's gorgeous Mommy, I'm putting it on my refrigerator."
Now her refrigerator is a Step II plastic one. Very cute, but magnets won't work. I didn't give it another thought- thinking she would just end up throwing it around the room somewhere--or--eventually come and beg me to give her the tape dispenser. Nothing ever happened.
Until this morning. I just happened to glance over at Sophie's fridge.
Here's what I saw...
TaDa!
((Insert picture of
my
picture half hanging out the door of her refrigerator for the world to see.))
SIGH.
I want a picture of this! And it's not because I want the world to see my beautiful, almost-in the lines coloring either. She is totally smarter than me and figured out a way to hang a picture that I never even thought possible. Since I have no picture to describe--I'll have to stick with words . UGH!
Moral to this story? Don't drop a digital camera.
Oh well. Here's to a beautiful wordy weekend full of family (SHOPPING) time!