When I was a kid February 2 was always a very fun day because Groundhog Day was just cool-well, as cool as in "let's celebrate a rodent day" can be. Now, as a kid I wanted lots of winter-playing in the snow was awesome-loved it and never minded being cold.
This year the stupid rodent chickened out and ran screaming back into his den. Damn--6 more weeks of winter.
I think somehow Sophie used psychic powers to zap poor Phil back home.
I guess kids are still the ones who love the snow.
BUT From what the weathermen are predicting though maybe Phil just ended up in a tree house somewhere because it really does look like spring is a-comin' oh yeah! 50 degrees this weekend I.can't.wait!
Fingers crossed everyone!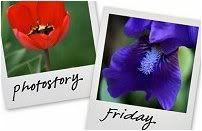 Hosted by Cecily and MamaGeek