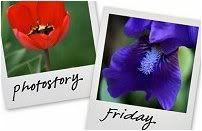 Hosted by Cecily and MamaGeek

This is the latest pic of Sophie. To me, even though the quality of the photo isn't great, she has lost all of her 'baby" and is officially a big-girl. The best big-girl on the planet I have to say.
I'm contemplating --no make that WORRYING--some of these 'big girl' changes that are about to take place: school, naps, night sleeping, portable comforts, etc; Sophie doesn't even notice much, yet I am freaking out.
I'm not ready for her to go to school yet. OK? There. I said it. I'll miss her. There are still things that need to be done, like outings to the zoo and bicycle trips to the arboretum. Now that I have the big truck we'll be able to cart her new 'big girl' bicycle and my bicycle + the trailer if she wants --anywhere we want to go. I can't wait. Adding preschool would just make her schedule a little too chaotic for both of us and the bike-rides & zoo just wouldn't take precedent over school.
So let's forget school. She's still only 3 after all. Time for me to make the most of it. She got a new shopping cart and a cash register for Christmas, so we are having a blast shopping right now-we've literally spent hours taking turns buying groceries. SO MUCH FUN! And not only are we getting in some good people skills like politeness, manners, and courtesy, but we also work on math;money-quantities-addition-oh yeah, number recognition, AND problem solving like figuring out if you need to buy one or two boxes of cereal and such. For me this is better than school. We both love it.
However, come April, her daddy will most likely no longer be working from home, so there is the danger of
zero
mommy time which makes
mommy
not-so-happy after awhile.
Preschool doesn't sound too bad when I put it that way.
I think the best compromise will be to find a school that she can attend once a week until the fall when she can join a 'real' preschool and go three days a week. I'm sure I'll be ready by then--I mean Sophie will be ready.
Now, all I have to do is find the place and once she's turn the magic '4' we're all set.
Phew. I can stop worrying now. Thank God. I was really stressed and only because I forgot my own rule that everything happens
naturally
. I don't need to push, fight, or manipulate as long as I am showing Sophie a good example of how to live. You know, "parent" her. Easy right? When will I learn?
For example, she choose to stop drinking a bottle on her own time-I didn't need to fight or 'wean' at all--it was all so simple, natural, and absolutely no big deal.
I did however waste several months on the 'OMG, my 2 year old still has a bottle' nonsense in my head.
For another example, Sophie choose to rid herself of her diapers--again--on her own time. I did give a slight push last summer when I said "absolutely no diapers in the swimming pool," but after that I just let her be --and before I knew it I heard the magic words, "Mommy, I want to wear my undies all the time now!"
Too bad I spent almost 6 months really sweating my incredibly tall 2 year old in diapers-constantly worried about all of the 'looks' I would get and the disdain from other would-be-friend moms that I couldn't be friends with because my daughter was not yet potty trained and couldn't attend certain classes.
Then Sophie turned 3 and I endured another 4 months of uncomfortable hell, until I let nature take it's course and she finally lost the diapers for good.
SO why am I worried about preschool? 'Cause it's how I roll. I'm also currently worried about where she sleeps at night-family or baby bed, when will she let go of the binkie, will she ever stop napping--god NO!-- and if so what in the world will we do with all of this time?--oh yeah, preschool--duh!-, and the biggest worry of the day, how will I get her to open her mouth for the dentist without drugging her?***
When will I learn to remember that all things happen naturally? When will I ever stop worrying about 'what's next' in the grand scheme of growing and maturing? Yeah I know, when hell freezes over, I just may get a good worry-free night of sleep. In the meantime I have my blog, my health club, and the forever best friend--Skittles!--to keep me company during my times of stress.
I could just give it to God knowing He has the final say anyway, but I don't have that much Mom-confidence to announce
that
to the neighborhood moms as my daughter runs around with her bunny bear on the back of her bike.
But I can just say, "Today I am letting her be," and maybe even inspire another mom to chill out a little. Hmm, maybe I should take my own advice!
***Seriously, I need some tricks for the dentist. I am completely against child 'doping' (TWO dentists have told me this is the only other option if is doesn't open up herself-TWO!), but I understand the importance of dental hygiene (especially since I have more than just one cavity right now because of my lack of dental visits and strange immature love for skittles) and have absolutely no idea how to do this one.
I am very anxious because A. I do not want my soon-to-be 4 year old to have to have a root canal on a little baby tooth and B. she grinds her teeth at night- BADLY- and I am really concerned about that. This is one of the reasons I still allow the binkie--she doesn't grind when it's in her mouth.
OK, so if anyone knows of anything I would love the suggestions. I really need some help here.
Have a great weekend! Thanks for playing!