Sophie's smarter than me,
AND she's not even 4 yet! Here's the evidence:
(at dinner last Sunday, pizza night) Sophie: Can I have a root beer too?
Me: Sure kiddo, just leave it at the table, please don't take it in the family room.
Sophie: Why not?
Me: Because it might spill.
Sophie: You take
yours
in the family room,
annnd
I've seen it spill!
Want to know how my outstanding, patient, spectacular, self answered?
Because I said so~! Then I went on to calmly yet matter-of-factly say, "When you pay the bills, feel free to do whatever you want. Until then
I
say."
(like I'm some sort of big shot)
When did I turn into my parents?
big heavy sigh.
The picture doesn't match the story, but I was just too plain flabbergasted during that particular moment to snap a pic of her brillance, so I choose a more happily-go-lucky one this week. THis one cracks me up with those ears!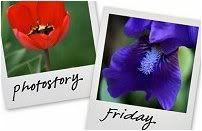 Hosted by Cecily and MamaGeek