I wouldn't mind the title of Mrs. Claus.
At all.
In fact, I decided this year to pretend. In my mind she's in charge of the cookies. She's in charge of the belly that shakes like a bowl full of jelly.
That grocery list is real. I bought that stuff. Almost all at once.
So I began with 14 1/2 dozen Spice cookies to shown above. In the past my hubby has called them 'heroin' cookies, because upon consumption, you are immediately addicted to them and actually go through withdrawal if you run out.
Unfortunately in the batch you see above, I had forgotten the baking soda. Took me a day or two to figure that out, but I did and simply chucked them all and re-made them. This time I only made about 10 dozen, but they came out almost perfectly. I have to say that these little morsels are a special treat because not only do you have to sift all of the flour before measuring (a total of over 20 cups) but you have to hand roll them each--twice! This is a total of about 294 spice cookies, individually rolled twice.
Then came the rest of the baking.
PEANUT BUTTER BALLS: 2 batches ~(188 individual balls-hand rolled)

FUDGE: 1 batch (78 pieces-individually wrapped)

SNICKERDOODLES: 2 batches (8 dozen, individually rolled)

SUGAR COOKIES: 4 batches (half frosted, half plain)

APRICOT SURPRISES: 2 batches

PUMPKIN ROLLS: 8 (that's right 8 since Thanksgiving!)

This picture includes ALL of the sweets in the house at the present moment.
You see, Mrs. Claus isn't just in charge of baking, she's also responsible for all of the delicious visions of treats that dance around in the heads of millions of children each year.
I started with my own child by decorating a gingerbread house and tree shown here in the middle of the table with BUCKETS of candy also shown:
spice drops, dots, skittles, MnMs, licorice, tart'n'tiny's, peppermint ribbons, raspberry filled, candy canes (4 kinds), special-ordered red, green, and white swirly lollipops in peppermint and fruit flavors, peppermint nougats (my fave) and of course the Wilton special decor candy that comes with each kit.
The candy list also includes an assortment of Christmas chocolates--mostly left in the advent calendar--chocolate Santa's, Hershey kisses (regular and peppermint), Reese's Christmas trees, and chocolate coins.
I don't mess around with my Mrs. Claus responsibilities. Neither does my hubby when it comes to helping Santa out on Christmas morning. I think I'm more excited than Sophie!
This is ready for December 26, along with a bucket of tums, Pepto Bismal, and a sorely neglected member card to lifetime fitness.
The bellies will shrink, and probably be right back to normal by next Thanksgiving when it starts all over again.
Oh, and if anyone wants to play a Christmas prank on their endocrinologist let me know; I'll let you borrow the pictures!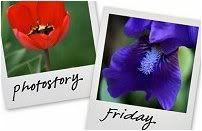 Hosted by Cecily and MamaGeek