First of all, can I just say, it's GREAT to be home PSF'ing like usual. One week gone feels like a year in isolation!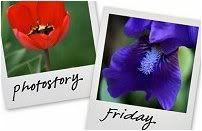 Hosted by Cecily and MamaGeek
This was Number 9 on my Thursday 13. I want to elaborate on something that really made me laugh--the kind of laugh that hurts your belly, but gives you the "woo-I needed that" feeling.
NON-LISTENING PRESCHOOLERS Part 2: After Jamison threw his shoe in the water (from the only pair he brought!) Nate had to jump in the canoe and go fetch it before it got lost at sea. Well, Nate almost fell in while getting in the canoe which jump started my laugh attack. Too bad for me Nate wasn't laughing with me because he couldn't get the rope untied to get off shore. Once he managed to move toward the shoe Sophie was still trying to 'skip' rocks and managed to throw some at his head! He started screaming like crazy "Sophie! You are not allowed to throw rocks at Daddy!" which made everyone crack up and I started running to get the camera. I almost peed I was laughing so hard--I couldn't help it! Then he had a hard time actually getting the shoe without practically falling out of the boat. He had to turn around like 3 times before he was close enough to reach, without falling, to grab the shoe. Thank God it was a Croc-or poor Jamey would have had one wet foot! It was absolutely the most hilarious part of the trip.