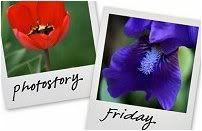 Hosted by Cecily and MamaGeek
This picture was taken on one of those days that makes me feel so unbelievably lucky to be a stay-at-home mom. Sophie and I had a chance to do a little shopping at a really nice outdoor mall. Seriously, this was a day that if something could go our way--it did and was simply perfect.

It's hard for me to express just how great the day was without going through every boring detail. It wasn't the act of shopping that made it so great (although the stores did have just what we needed) but more like there was an aura in the air: sweet, content, calm, and relaxed that made everything we did seem somehow choreographed or intentional -like there are no coincidences, it's all part of a plan. Sophie and I were able to have some 'grown-up' girl bonding time (she was so excited when I mentioned that we were doing just what Giselle and Morgan did in the movie Enchanted) and finally connected to each other in a way that we hadn't since the beginning of summer. Her and I are finally getting back on the same page and I am so grateful.

I've missed just spending time with her. It's almost like I have been perpetually distracted in my mind for about a month now that I haven't really been aware of our relationship--even though we had been physically together still doing 'summer' things.

I know I sound weird, but really --when we left the mall that day -- I felt --important. Important to myself because I was (am) a good mom, important to Sophie because she needs me and still likes to hang out with me, and important to Nate because I was taking care of his little girl. It might very well have been the first day I actually felt important just because I'm here.

It was also important that I be myself-goofy, relaxed, silly, and dorky. We ate hot pretzels for lunch and fed the birds when we were full. That's when I snapped the picture. Sophie thought it was hilarious when she threw an entire pretzel stick to the birds and watched the pick and fight over it. Not one bird was big enough to take it away, so they all had to share it. We talked a lot about working together and teamwork while we ate lunch-it was really sweet. (see what I mean about choreographed? Did someOne plan this? or should I say someThing?)

These are the kinds of days I will crave when Sophie is all grown up, tell my grandchildren about when they see this picture, and make the hard days as a SAHM more than worth it. These are the kind of days that show me evidence that a higher power, the Universe, God- whatever you want to call it exists--and exists for the greater GOOD not bad.
Thank God Sophie is here. Thank God.